By Tacy Callies
Participants of the Citrus, Vegetable and Specialty Crop Expo were thrilled to come together in person after last year's virtual event. Industry members gathered at the Lee Civic Center in North Fort Myers for two days of education, business and networking on Aug. 18–19.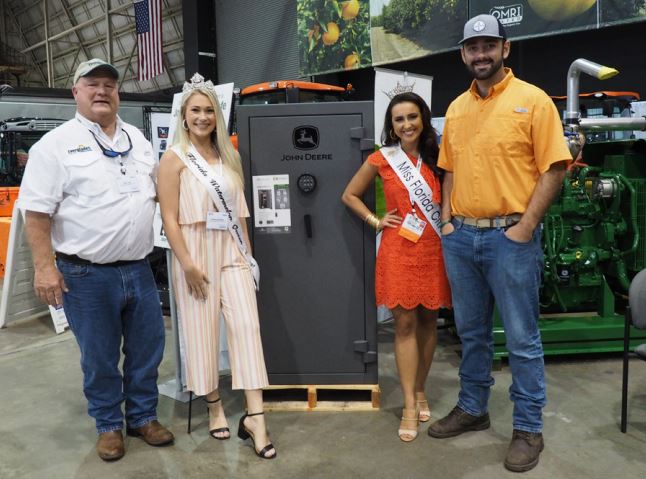 While attendance was down a bit this year due to the COVID-19 pandemic, those who came to the event made the most of their time and appreciated the chance to reconnect with industry colleagues. New exhibitor Brad Turner of Sand to Soil Services remarked how pleased he was with the quality of conversations he was able to have with grower attendees.
The first day of Expo featured a full slate of citrus seminars. On the second day, attendees heard from speakers who addressed some of today's most important ag issues. They also received updates on vegetable and specialty crop research. Those attending the complete two-day educational program could earn a whopping seven continuing education units (CEUs) toward the Florida restricted-use pesticide license and nine Certified Crop Adviser CEUs.
As always, the Expo offered plenty of opportunities to win prizes.
The annual John Deere gun safe giveaway for preregistered growers, sponsored by Everglades Equipment Group, saw a second-generation winner this year. David Wheeler Jr. of Wheeler Farms Inc. in Lake Placid, Florida, claimed the prize. His father won the safe in 2012.
Florida FFA state officers were once again on hand to assist with Expo setup, production and teardown. An FFA fundraiser was held on the trade show floor during the event's networking reception. Attendees and exhibitors bought raffle tickets in support of FFA for a chance to win a backyard BBQ bundle. The prize, donated by Hays-LTI, included a large pull-behind smoker and cooler. Justin Harrison with Teleos Ag Solutions was the winner.
Another drawing was for a beautiful citrus grove painting donated by Highwaymen artist Kelvin Hair. Robby Doyle of Maury L. Carter and Associates took home the framed artwork.
New this year, Magna-Bon gave away two pairs of University of Florida Gator football tickets. The lucky winners were Benny McLean of Uncle Matt's and Ray Royce of Highlands County Citrus Growers Association.
"We truly appreciate the many supporters who make the Citrus, Vegetable and Specialty Crop Expo possible," said Robin Loftin, president of AgNet Media. "Special thanks go to the attendees, exhibitors, sponsors, seminar planning committee and FFA officers who all play a critical role in the success of the event."
The 2022 Expo is scheduled for Aug. 17–18.