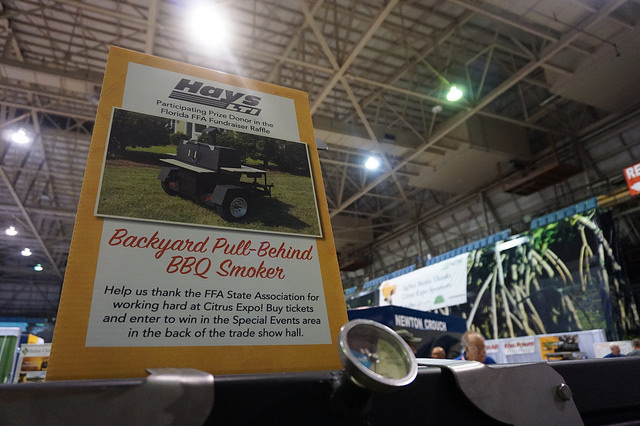 One of the purposes of the Citrus, Vegetable and Specialty Crop Expo is to bring together industry members. This includes showing agriculture students career opportunities in the industry.
Florida FFA Association officers has been a staple of service at Expo for the past decade. The Citrus, Vegetable and Specialty Crop Expo takes pride in providing a leadership opportunity for FFA officers to be able to network and connect with industry professionals. During the annual event, FFA officers get a firsthand look at how different sectors of the agriculture industry come together.
The officers who volunteer at the event are newly elected each year in June at the Florida FFA state convention. Last week, individuals were elected to serve Florida FFA for the next year. Members of the 2021–2022 state officer team include:
Julia Heijkoop, state president
Carter Howell, secretary
Meg Alexander, area 1 vice president
Barrett Young, area 2 vice president
Tyler Brannan, area 4 vice president
Jillian Johnston, area 6 vice president
After a month-long leadership orientation, the Citrus, Vegetable and Specialty Crop Expo will be one of the first major events in the industry that this new team will attend. These young leaders play a key role at the event, working hard from setup to teardown.
Fundraisers at the Citrus, Vegetable and Specialty Crop Expo have contributed thousands of dollars to Florida FFA, thanks to generous support from the event's attendees. The newly elected FFA officers will be selling raffle tickets at the Expo on Wednesday, Aug. 18, for a state-of-the-art smoker, donated by Hays-LTI. The drawing will take place on the trade show floor during the grower networking reception on Wednesday.
Please support the Florida FFA by buying raffle tickets at the show!
The 2021 Citrus, Vegetable and Specialty Crop Expo will take place Aug. 18–19 at the Lee Civic Center in North Fort Myers, Florida. Preregistration is now open! All preregistered growers will be eligible for a chance to win a John Deere gun safe, courtesy of Everglades Equipment Group. To preregister, click here or call 352-671-1909.
Due to a staggering amount of support, the Expo is sold out of indoor exhibitor space, but there are outdoor booths available. If you would like to exhibit outdoors or if you would like to be added to the waiting list for an indoor space, please fill out a registration form.
To learn more about the event, including host hotel information, visit CitrusExpo.net.