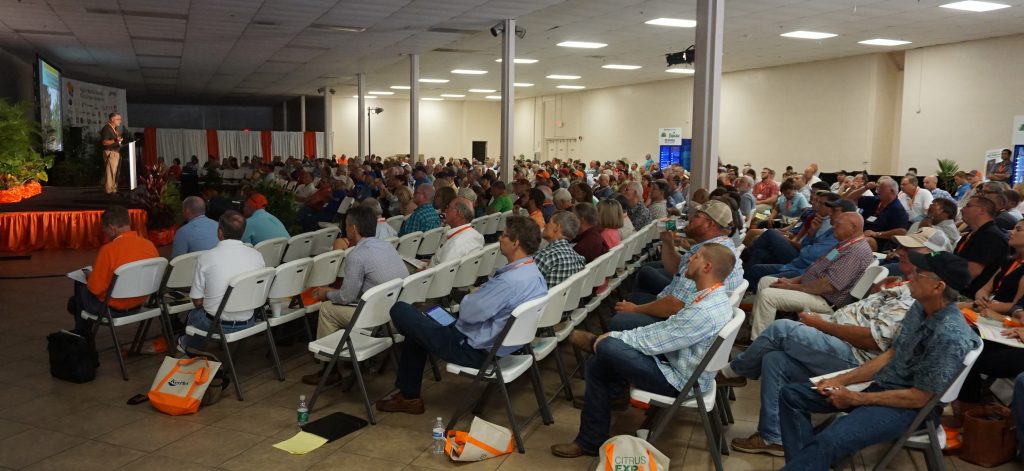 Topics of interest to all Florida growers will be highlighted the second morning of the Citrus Expo and Vegetable & Specialty Crop (VSC) Expo.
The Florida Ag Issues session will have presentations tailored to citrus, vegetable and specialty crop growers. Crucial topics impacting these industries will be addressed.
TRADE CONCERNS
The trade war continues for Florida farmers as unfair trade practices by Mexico heat up. Mike Joyner, president of the Florida Fruit and Vegetable Association (FFVA), and Michael Schadler, executive vice president of the Florida Tomato Exchange, will give a presentation addressing trade concerns and industry efforts.
GET INFORMED ON CARBON CREDITS
Agricultural carbon markets is a hot topic among grower groups. American Farm Bureau Federation economist Shelby Myers will discuss the emerging markets for sustainability and carbon credits.
LABOR ADDRESSED
Labor continues to be a crucial concern in agricultural industries across the board. Jamie Fussell, FFVA director of labor relations, is set to discuss new issues regarding agricultural labor.
NAVIGATING THE IMPACT OF COVID-19
It's no secret that COVID-19 will have a long-standing impact on farmers across Florida. Because the industry's landscape has changed dramatically due to the pandemic and continues to evolve, experts will address the latest COVID-19 impacts and resources available for growers.
Christa Court, director of the University of Florida Institute of Food and Agricultural Sciences (UF/IFAS) Economic Impact Analysis Program, will share how the pandemic has changed Florida's agricultural industry.
Also from UF/IFAS, Kim Morgan will discuss COVID-19 programs available to growers through UF. She will also touch on the university's labor program.
Lastly, Janet Wright, U.S Department of Agriculture Farm Service Agency (USDA-FSA) outreach coordinator, will speak about COVID-19 relief assistance programs available through USDA.
The Florida Ag Issues session will begin at 9 a.m. on Thursday, Aug. 19 at the Lee Civic Center in North Fort Myers, Florida. Preregistration is now open! All preregistered growers will be eligible for a chance to win a John Deere gun safe, courtesy of Everglades Equipment Group. To preregister, click here or call 352-671-1909.
Due to a staggering amount of support, we are sold out of indoor exhibitor space, but there are outdoor booths available. If you would like to exhibit outdoors or if you would like to be added to the waiting list for an indoor space, please fill out a registration form.
Complete details about the seminar sessions will be available soon. Be sure to mark your calendar for Citrus Expo's biggest year yet! To learn more about Citrus Expo, including host hotel information, visit CitrusExpo.net.