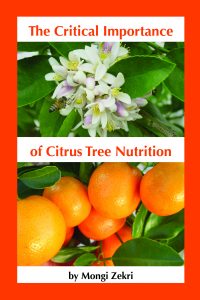 Citrus growers now have yet another reason to attend the 2016 Citrus Expo. They can receive a complimentary copy of a brand new book, "The Critical Importance of Citrus Tree Nutrition." Authored by citrus Extension agent Mongi Zekri, the book will debut at the Citrus Expo Shindig, a special party to celebrate the show's 25th anniversary.
The shindig takes place at 4:30 p.m. on August 17, immediately after the conclusion of the seminar program, on the trade show floor in the Lee Civic Center in North Fort Myers. All Citrus Expo attendees and exhibitors are invited to the party, which will include food, drinks, a cigar roller and the chance to win fabulous prizes in the Florida FFA Fundraiser Raffle.
During the shindig, Zekri will be signing and distributing his book to growers at the Tessenderlo Kerley, Inc. (TKI) exhibit (booth 521). Complimentary copies of the book are made possible by a first-edition printing sponsorship from the Crop Vitality division of TKI. TKI Crop Vitality produces a unique line of liquid crop nutrients that bring value to the farmer and fertilizer retailer.
Published by AgNet Media, "The Critical Importance of Citrus Tree Nutrition" is approximately 90 pages in softback cover. The book is comprised of a collection of 14 articles previously published in Citrus Industry magazine. Topics include details on nutrients essential to citrus production, how to increase efficiency and reduce the cost of nutritional programs, foliar fertilization and more.
As the Southwest Florida multi-county citrus Extension agent with the University of Florida's Institute of Food and Agricultural Sciences, Zekri develops and implements educational programs and provides technical expertise to commercial citrus growers in all areas of citrus production. He is widely recognized for his extensive work in the Florida citrus industry and is a respected expert on the subject of nutrition to assist in the combat of citrus greening disease. He has published over 220 manuscripts in scientific and trade journals and is the recipient of more than 30 state, national and international awards.