Growers will have the opportunity to learn about the latest, cutting-edge research in the citrus industry at the Citrus Expo seminars in August.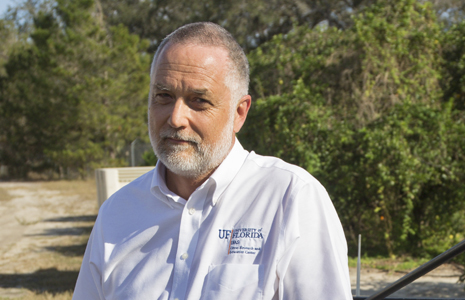 Arnold Schumann, professor and researcher at the University of Florida Institute of Food and Agricultural Sciences (UF/IFAS), will present data collected over the last five years of research on the citrus under protective screens (CUPS) system. Schumann leads the CUPS experiment at the UF/IFAS Citrus Research and Education Center in Lake Alfred. The protected citrus experiment is about one acre in size. The purpose of CUPS is to eliminate the psyllid insect in the trees to prevent HLB, also known as greening. Schumann will be emphasizing the impact of CUPS on grapefruit, one of the 18 varieties being grown for this project.
Florida's grapefruit production has been reduced drastically by HLB. "Grapefruit are struggling the most with citrus greening right now," Schumann says. "It's virtually impossible to establish new grapefruits outdoors. Florida's statewide grapefruit production has dropped by 90 percent since we have begun to see the effects of citrus greening."
According to Schumann, Florida's grapefruit have proven to be a great fit for the CUPS system. "Grapefruit have adapted to the CUPS climate well, and there is a great demand for grapefruit in Florida since there is so little being produced," Schumann says.
After Schumann's presentation, he will hand the stage over to his colleague, Ariel Singerman, who will be discussing the economics of the CUPS system.
Citrus Expo and VSC Expo will take place Aug. 14–15 at the Lee Civic Center in North Fort Myers, Florida. Growers will not want to miss this year's event, so don't wait. To preregister, click here or call 352-671-1909. All preregistered growers will automatically be entered for a chance to win a John Deere gun safe courtesy of Everglades Equipment Group
Due to a staggering amount of support, Citrus Expo is currently sold out of indoor exhibitor space, but there are outdoor booths available. If you would like to exhibit outdoors or be added to the waiting list for indoor space, please fill out a registration form.
Information about the seminar sessions is now available. Click here to view the seminar schedule. Be sure to mark your calendar for Citrus Expo's biggest year yet! To learn more about Citrus Expo, including host hotel information, visit CitrusExpo.net.