The Citrus Expo and Vegetable & Specialty Crop Expo are coming to you this year! The popular annual events will be virtual to present information to growers in a safe way against the backdrop of COVID-19.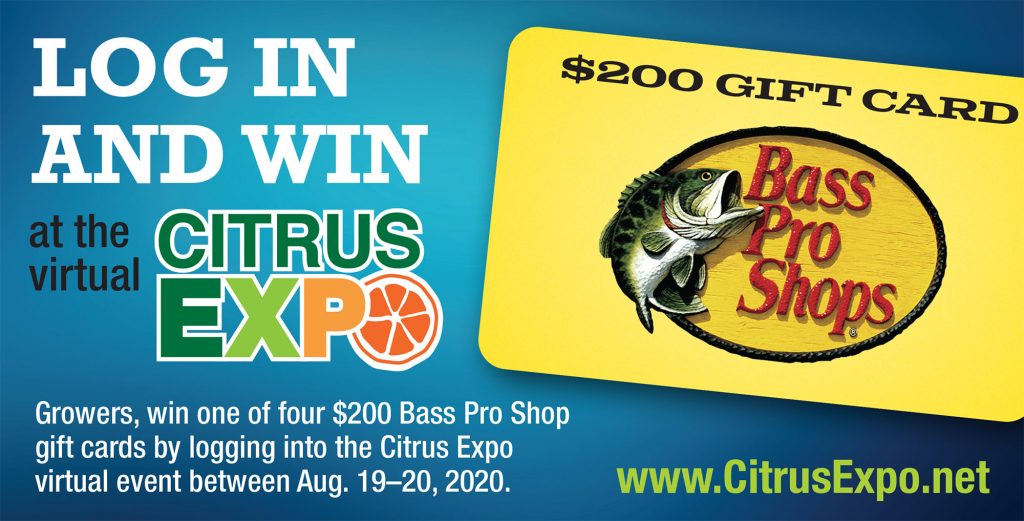 Join us for the virtual event on Aug. 19–20 as we bring the citrus, vegetable and specialty crop (VSC) industries together in this new format.
Both the citrus and VSC seminar program will debut online at CitrusExpo.net at 9:30 a.m. on Aug. 19–20. Attendees will be able to view videos of the research presentations from their computers or cell phones.
Those who attend the seminars as they debut online will be eligible to win one of four $200 gift cards from Bass Pro Shops, courtesy of Agromillora, Carden and Associates, Hays LTI and Vestaron.
Additionally, those who view the seminars will have the opportunity to earn continuing education units (CEUs) toward the Florida restricted-use pesticide license and the Certified Crop Adviser designation. Stay tuned to find out how many CEUs will be available for each.
The Expo team and the University of Florida Institute of Food and Agricultural Sciences have partnered to create a diverse educational program, covering big issues that will be of interest to all growers.
The annual general session is making a comeback this year. All growers are invited to attend the general session, which will feature two speakers. Florida Department of Agriculture and Consumer Services Director of Cannabis Holly Bell will give an update on the state's hemp program. Bell's hemp talk was a hit at last year's Expo, and we are excited to welcome her back to the event. She'll discuss how the Florida hemp program is becoming the role model for the country. Florida Fruit & Vegetable Association President Mike Joyner will speak on the impact of imports from Mexico.
To view the complete seminar schedule, including speakers and topics, click here.
The seminar videos will remain online through the end of this year to offer flexibility for growers. It will be easier than ever to get the critical information you need. Those interested need to preregister to gain access to the programs. There is no cost to register.
We'll see you online Aug. 19–20!